Home
Career
Reviews
Recordings
And So...
Prophets without Honour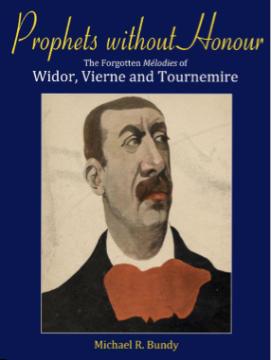 The result of many years' fascinating labour: This is an attempt to give Charles-Marie Widor (1843-1937) and his two pupils, Louis Vierne (1870-1937) and Charles Tournemire (1870-1939), the credit that they deserve for firmly establishing the French mélodie as a serious genre to rival that of the German Lied.

In many ways, as they did not follow the Faure/Debussy/Ravel mould, they were in a veritable cul-de sac, and yet they each produced wonderful examples of the mélodie and the symphonic song...as it might have developed. Although sticking firmly to the principle that words and harmony were more important than any tune per se, how were they to know that the French melodic world was to develop along different lines?

This book describes each mélodie composed by these three extraordinarily underrated composers, and puts each artist into his historical context. There are copious musical examples – those excluded from the book in order to save space will be added here in due course; also included are a discography, extensive bibliography and several appendices, one of which is dedicated to the number and variety of the changes that Widor (an inveterate tinkerer) made to just two of his early songs.

This is a book without which it will be hard to understand the development of the
French Mélodie as an independent and quite uniquely individual art-form.

Available directly, and reasonably priced, from the author or through Troubador and all good retailers.

The Next Stage....

Why should organists write operas? – Motets, Masses and other choral works, yes; but operas?

Widor composed three: Maitre Ambros, Les Pecheurs de St. Jean and Nerto, and also several choral works in addition to his Messe – originally conceived for the vast forces (200+ voices) of the seminary attached to St. Sulpice...where Gounod had once been an oblate. The choral works – the peculiar Chant Seculaire and the Symphonie Antique – are extraordinary in their differing ways: The first for soprano solo, chorus and orchestra was probably performed only the once, whereas the latter, for Soprano and Alto solo, chorus a large orchestra – a true choral symphony – has at least been recorded.

It is extraordinary to think that the blind Louis Vierne should want to compose for the stage, but he had two concepts some twenty years apart: Francois Villon (c.1912) for which the general dramatic scheme survives and Antigone (c.1931) which never got to the planning stage. He did, however, in addition to his popular Messe, leave an oratorio – or dramatic cantata – Praxinoé, which was performed twice (once in Rouen and again in Paris) and very favourably received.

Charles Tournemire is the strangest fish in this aesthetic pond. Although bound by his faith to the tribune of Ste-Clothilde (sic) and with a fervent conviction that everything that he thought, played and wrote should be God-centred, there was an urge to compose for that most decadent of art forms – the Opera! He produced four such works: The early Nittetis, and subsequently Les Dieux Sont Morts – then, after a gap of many years, La Légende de Tristan (using the Breton version of the tale) and Il Poverello di Assisi – an five Act retelling of the life of St. Francis, and almost the last thing that he composed. An early oratorio Le Sang de Sirène (one of his few works to be both published and performed...and it won him a prize!) was followed many years later by the VIième Symphonie (a choral symphony), La Queste du Saint Graal, La Douloureuse Passion du Xrist and the Apocalypse de St. Jean. In addition there is the Trilogie – three short oratorios...or are they operas (they contain stage directions!) – covering Faust, Don Quichotte and St. François d'Assise again. There are other, smaller, works of interest under investigation.

The fascination is by the way in which Tournemire, born in Bordeaux, espoused all things Breton – language, culture and folklore....and the Grail – even buying a (third) home on the remote island of Ouessant, many miles off the North-West tip of Northern France.

Even more interestingly, both he and his one-time pupil Olivier Messiaen, shared a fixation with Tristan and St. Francis: The ramifications of this and other aspects will be discussed in a forthcoming tome...


Watch this (web)space!

The Dolour of Tournemire's Passion

This article appeared in the September 2011 issue of The Organ magazine. However, due to an oversight, a draft version was printed rather than the final version: Not only this, but one of the musical examples was omitted and another duplicated in its stead. This is how the article should have appeared.

I am sure that I am not the only person who feels his hackles rise at the sound of that most condescending of phrases "….an organist-composer": No-one would dare refer to Beethoven or Mozart as a "pianist-composer" – it is a term that attempts to nullify all compositions except those for that instrument. For the past few years I have been researching the solo vocal works of three such "organist-composers" – Widor, Vierne and Tournemire – and have been amazed at the rich diversity and quality of their compositions: Orchestral symphonies, concerti, ballets, chamber music, operas, oratorios and mélodies all flowed from their pens. Most of this rich resource is rarely performed and, in the case of Tournemire, hardly – if ever - at all.

Having performed and recorded some of the mélodies by these three composers, I still find that, whenever I mention the subject, I am greeted with the supposition of "…for voice and organ": The resounding "No!" is sometimes off-putting. Why must it be assumed that organists only write for the organ – no-one would have dared to categorise J.S. Bach in such a way! That being said, there is the one example of a cycle for voice and organ – Les Angelus Op.57 by Vierne – but this might seem to sit a little strangely with his other offerings: Individual mélodies that are so full of passion and suffering, four further cycles in which he attempted to exorcise his emotional pain and a series of symphonic songs that scale the heights of ecstasy and plumb the depths of stoical despair. Widor was responsible for the first true French song-cycle (and the first such attempt since the collection known as Nuits d'Eté by Berlioz) – entitled, unsurprisingly, Soirs d'Eté­ (1889) – and another cycle, Chansons de Mer (1902); in addition there are dozens of individual mélodies, some of which are marvellous examples of the song-maker's art. Tournemire only composed songs in the early part of his career, stopping c.1910, yet he produced some memorable examples; one, Sagesse, setting words of Verlaine is nearly twenty minutes long and is deemed to be one of the most important settings of that poet's verses..

However, no-one can deny that organ music played a significant part in the lives and compositions of these three men, but, in each case, their contribution to the solo genre comprises less than 50% of their catalogues – even Tournemire! For a composer so apparently rooted in the tradition and tribune of Ste. Clothilde (sic), Tournemire seems to have felt an enormous urge to compose for the stage. This may have been the influence of the Paris Conservatoire, where things orchestral and vocal seem to have been consistently subjugated to things theatrical(1): It was, in all probability, an attempt to 'Christianise' (a term he later used regarding the poet Albert Samain) the genre, although his first opera, Nittetis Op.30 (1907), does not overtly follow this path…unlike its immediate successor Les Dieux sont Morts Op.42 (1912), an attempt to redeem the classical world. His other operas include La Légende de Tristan Op.53 (1926) – with more of a theistic emphasis than might be expected - and Il Poverello di Assisi Op.73 (1939). There is one work which fits into neither the category of opera or oratorio; the Trilogie Op.52 (1926-1929) comprises three huge compositions – Faust, Don Quichotte and St. Francis. There is drama and there are stage directions, alongside orchestral Symphonies - yet there is an element of doubt as to their ultimate performance destinations: Perhaps, even at this stage, Tournemire was aware of the unlikelihood of performance. They are connected philosophically, as is evidenced by the programmatic notes that Tournemire left.

The organ did feature in some of the larger-scale compositions of each of these composers: Widor's Symphonie Sacra (for organ and orchestra) and Symphonie Antique (a choral symphony) are just two examples. Tournemire used the instrument as an orchestral adjunct quite sparingly: The Grande Orgue feature in his monumental VIième Symphonie Op.48– alas the only recording uses an electronic instrument! – and in his vast oratorio the Apocalypse de Saint Jean Op.63 (1936), but it is most evident in his late oratorio La Douloureuse Passion de Xrist Op.72 (1937) where it is used as an obbligato instrument.

This Passion is not just another setting of the gospel narrative, but takes its text from the work of the same name by the early 19th century mystic and saint Catherine Emmerich: This was the same source as the recent Mel Gibson 'tomb-buster' The Passion of Christ. An invalid for most of her short existence, this stigmatic visionary experienced the life of Christ as though she were personally present: In her ecstasies she made frequent 'travels' to the Holy Land and related how she accompanied her Saviour during the three years of His earthly ministry. She was a 'witness' up to the time of His ascension, yet felt that the story was still incomplete: Alas, she died before further work could be completed. Thus, there is a very personal element to her narrative and, amongst other anomalies, more words of Christ are recorded than ever appear in the Gospels, particularly those known as the 'Seven Last Words' which here become more numerous. Tournemire uses his selection from the long text in the original present tense, which is often quite accusatory in character.

There are further innovations in this work: There is no 'Evangelist' per se, but, rather, two nameless récitants – one male and one female. They tell parts of the story, but not in the traditional way, the chorus sharing the responsibility for setting the scene and keeping the narrative impetus alive. Often these récitants have long, descriptive arioso passages, e.g. the flight of Judas and his gruesome death, the sorrows of Jesus' mother (&c.); these are unique in that they are accompanied solely by the organ. A large three manual instrument is required; it only joins the orchestra for the final chorus. There are other solo characters involved – Hérode, Anne (Ananais), Caïphe, Pilate, Cresmas and Dismas (the two crucified thieves, here given names for the first time since the Acts of Pilate in the apocryphal New Testament) – but no female voices, and the drama is uninterrupted by reflective arias. The Voix du Xrist always sings unaccompanied and is directed to be placed at a distance from both the performers and audience alike.

The orchestration is quite modest by Tournemire's standards: Double woodwind, although the second bassoon doubles the contrabassoon, no horns and a considerably reduced percussion batterie. The full orchestra rarely plays as such and certain combinations of instruments are associated with different characters; the feel is more of chamber music than a fully orchestral oratorio. The choral writing is undemanding - textures are more important; it is interesting that Tournemire both stipulates the numerical relationship between the choir and the orchestra (80:65) and insists that a celesta should accompany the choir in the final chorus. Perhaps these instructions were more a reflection of the ability of his potential performers?

Within the confines of a short article it is obviously impossible to demonstrate the myriad facets of this complex work, particularly the larger choruses; a few examples may serve as a 'taster', with particular reference to his use of the organ.
[Ex.1]
This, the very opening of the work, is dark and nervous; the string chords become a leitmotiv, reappearing in many derivations and guises, perhaps as trumpet fanfares or representing figures of pharisaic authority: The violin thirds and long woodwind solo are similarly developed. Perhaps there is little surprising here. The strident, often accusatory nature of the chorus is contrasted with the more mellifluous lines of the 'characters', each represented by a particular instrumental ensemble – Anne (four-part violas), Caïphe (three-part violas), Pilate (four-part cellos, always preceded by a trumpet fanfare) etc.: These elements are gradually reversed during the course of the work, as the chorus and orchestra become more lush, the solos more monochrome. As in more familiar passion narratives, the cumulative effect is based on a tumult of short sections: Here, these are invariably contrasted in character, tessitura, tonality and texture.
The roles of the récitants are varied; occasionally a few words, but often a dramatic narration and commentary. The depiction of Peter uses the organ in various ways, describing both the way he followed Christ [Ex.2], the cock-crow and the subsequent reaction of Christ [Ex.3]:
Ex.2
[Ex.3]
The sympathetic St. Catherine precedes this last example with the line …Pierre, confus et inquiet… an understanding not accorded to Judas, whose flight through the desert pursued by Satan is elaborated in graphic detail - a brief extract:
[Ex.4]
As he hangs himself, his body bursts open and his entrails fall (répandirent) on the ground. There are extraordinary harmonies; not solely in the strange organ chords (one directed to be played on the cornet seul)…
[Ex.5]
…but in cataclysmic brass fanfares at moments of crisis, of which this next example (occurring during the Marche au Calvaire) is a mere distillation:
[Ex.6]
Inevitably, the orchestra is equivocal, serving to represent both good and evil. Whilst there are moments of great drama, there is often a surreal calmness, particularly at the moments of greatest torment – the flogging, the condemnation (etc.); the whole is as much a meditation as a dramatic, musical re-enactment. The work ends irresolutely: Although the words of Christ are heard (Je vous donne ma paix) after the graphic descriptions of earthquakes, the sun changing its colour (etc.), it is still Good Friday. The final moments are a long held bare fifth (B/F#) spread over many octaves, while the organ pedal (with 32?) quietly restates one of the woodwind themes from earlier.
[Ex.7]
Is this an important work? - and, if so, why? Being one of the few people lucky enough to have seen the manuscript, I believe it to be one of the undiscovered masterpieces of the first half of the last century. It is unique and full of interesting features, a kaleidoscope of views from a very personal perspective: This short article can do little more than whet the appetite. I do realise, alas, that to advocate a work by an "organist-composer" that uses the organ in such an integral manner will not aid the cause of his being considered a "real" composer; however, as an entrée, it may encourage others to explore further…and there is much more to discover. Although the Passion is still unpublished, it is hoped that this will soon be rectified and a performance made possible – perhaps even a broadcast? Tournemire remains one of the overlooked geniuses of the 20th century: This has been said too often of too many others, but in this case it happens to be true – even Olivier Messiaen (a one-time private pupil) believed it so(2). He belonged to a generation of composers who worked in an era when their concepts were out of step with their society. Harmonically, Tournemire was more forward-looking than any of his contemporaries and has been described as a French Scriabin: Had it not been for his advances then, perhaps, even Messiaen (who made the role of organist acceptable once again, albeit many years after Tournemire's death) might have developed in a different way. Although Tournemire was reconciled to being overlooked in his lifetime, perhaps the time has finally come for a serious reappraisal of his many neglected works: Only then might the dolour of the unappreciated artistic legacy of this passionate and quixotic "organist-composer" be relieved.
* * * * * * * * * *
1. Pour le conservatoire, le théâtre seul existe; tout musique qui n'est point de théâtre y est considérée comme un genre inférieur; on n'y cherche à former que des compositeurs de théâtre, des chanteurs de théâtre, ou pourrant presque dire: des violonistes, des pianistes de théâtre. Le Mercure Musical 15.vii.1905
For the Conservatoire, only the theatre exists; all music not designed for the theatre is considered here to be an inferior genre; it seeks to produce only composers for the theatre, singers for the theatre, one might almost say: violinists, pianists for the theatre.
2. Un jour, on rendra justice à Tournemire - Messiaen
One day Tournemire will receive justice
©Michael R. Bundy – VII 2011
Home
Career
Reviews
Recordings
And So...